Axia Best Managed Companies Award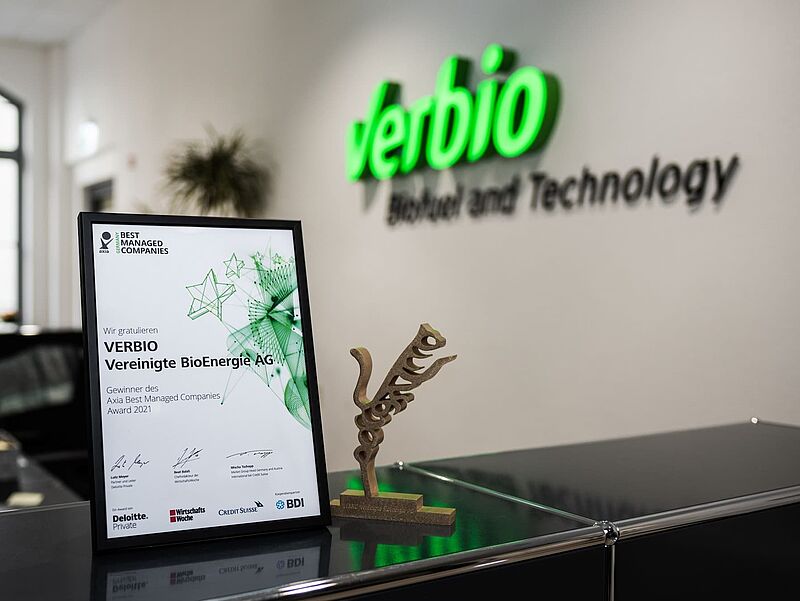 VERBIO is Axia Best Managed Company 2021

Deloitte, Credit Suisse, WirtschaftsWoche magazine and Federation of German Industries honoured VERBIO's excellence in innovation, strategy, profitable growth and company culture with Axia Best Managed Companies Award 2021.
The award was presented personally to the two members of the VERBIO Management Board at a ceremony held at VERBIO's corporate headquarters in Leipzig. Prior to winning the award, VERBIO needed to prove itself in a three-stage qualifying process. Independent experts made up of renowned representatives from business, science and the media awarded the bioenergy company top marks in the categories of strategy, governance and finance, productivity and innovation, and culture and commitment.
"From developing forward-looking strategies and innovative processes through to effective corporate governance structures and a healthy corporate culture, like all other winners of the Axia Best Managed Companies Award, VERBIO demonstrates business excellence – and once again it sets standards in all key areas of corporate governance," highlighted Lutz Meyer, Partner and Head of Deloitte Private.
Press Release "VERBIO receives the Axia Best Managed Companies Award"
To see this content (source:
domain.net
), you have to click accept. We would like to point out that by accepting this iframe data could be transmitted to third parties or cookies could be saved. For more information, see our
privacy policy
.