Sponsoring
Martin Schulz
Paratriathlete from Leipzig (Germany)
VERBIO Vereinigte BioEnergie AG supports Leipzig's top athlete Martin Schulz on his way to defending his title at the Olympic Games in 2021. The multiple world and European paratriathlon champion won gold in 2016 at the Paralympics in Rio. Shortly afterwards, the sponsorship connection between him and VERBIO was established. Since then, Martin steps on the gas. And that in the truest sense of the word, because the sponsorship package also includes a SEAT LEON TGI that is powered by natural gas and biomethane. This way, Martin is just as climate-friendly in his car as he is on his bike.
The big goal for Martin Schulz is the next Olympic Games in Tokyo in 2021. He is training to defend his title as a Paralympics winner. On July 26th, 2020 he started at the Leipzig Triathlon. And the next competition on the road to Tokyo is already planned: At the beginning of October, Martin Schulz will participate in "IRONMAN 70.3" in Luxembourg. "The half-distance has been on my wish list for a long time. One day I would like to qualify for the IRONMAN HAWAII and make it into the top 50," Martin said about his ambitious goals.
"Martin and VERBIO have more in common than just a sponsorship agreement. We are an excellent match. Martin is ambitious, determined and disciplined. He doesn't let his handicap stop him. We are also looking for a challenge - after all, VERBIO is in daily competition with corporate giants in the fuel market. We too want to maintain our leading position in the biofuels market. Our advantages in competition are innovation, investment and maximum CO2 reduction," VERBIO's CEO Claus Sauter says.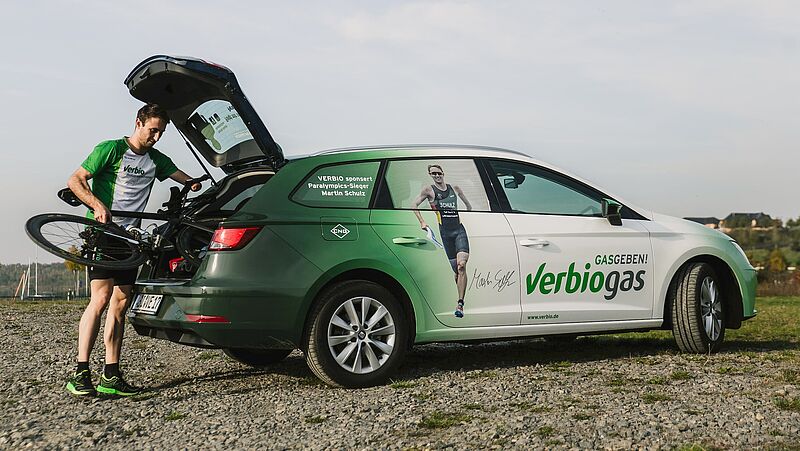 Picture by: SC DHfK Leipzig e.V. // Florian Pappert